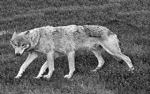 Advances in Biotechnology
create new opportunities
for dog breeders!
This is Bonnie Dalzell's home page. This is NOT an offical home page of ASFA, the AKC or any other dog organization. The information contained herein is provided as a resource and aid to those who share my interests and hobbies. Use this information at your own risk and for your own purposes.

My original writings and artwork are copyright Bonnie Dalzell and may be reproduced for private use only with written permission. Any other use of my writings requires my written permission.
To contact me use information in box above
fight spam!